Bear was my whole world. In my heart I felt he would live for 16 + years. I truly believed this, I took the very best care of him. He ate the best food, came everywhere with me (always with a seatbelt on) and got a vet visit for every sneeze that seemed off. My parents would tell you that Ben and I take better care of our dogs than we do our selves (probably true). Not once did I ever think I would need to prepare myself for this.
When we first brought Bear to the vet we thought he had a bladder infection. Who knew we actually were about to find out that our baby boy had much more going on then that. Bear was hospitalized for 3 days due to kidney failure. Thankfully the vet allowed me to spend most of those 3 days by his side at the clinic. We were hoping that the kidney failure was brought on by his severe allergy problems he had been having the last few years. However, on day 3 we found a lump in his chest. We decided to bring him home but with special treatment and the lavish lifestyle of a dog with no rules at all, he even got his couch privileges reinstated. Though we were all happy to have Bear home, that happiness was soon dampened when he showed no improvements but instead went downhill again. We needed more answers, so he went back to the vet for an ultrasound. Thank goodness these vet visits were not stressful for Bear like they are for his Brother Roo. Bear loved every minute he got to spend at the vet clinic with Dr.Zoe (I have the bills to prove it!). When it came time for the ultrasound, I requested that we not sedate him (as he'd been drugged enough as it was) the vets and techs all agreed that they trusted the gentleman that Bear was enough to do it without it. We held his head and they stretched his legs out so they could ultra sound his entire belly, Bear laid there patiently for 45 mins while they pushed the ultrasound stick deep into his belly to try to see what was going on in his kidneys. We were all so proud of him and his tolerance and trust for anything I would ask of him.
The ultrasound proved that it was cancer and it was so much worse then we could have ever imagined. Bear lost his appetite and went down hill quickly. From the first doctors visit to the last was two weeks, the longest two weeks of our lives. Even then we had no idea how short those two weeks really were. We had to say goodbye to our baby boy on April 2.
I miss him every single day, Bear was the centre of my world, he was my fur child. Bear would do anything I asked him to do, he recently endured a years long modelling job at my photography school, l where he made some new human friends. He went to dog therapy training because his mom (I) made him, he swam with me no matter how crazy cold the water I was getting into was, he did anything for me. He would go everywhere with me with the biggest smile on his face. He loved road trips as much as we do and was happy to sit in the car for hours with us. Bear loved every single person he met, except one (but I approved of that), Bear was a heart stealer. Our life is very different now and we are all adjusting to a new home without his smiling face, he stole the spotlight (by force) in our home for six and a half years. Bear was the squeaker of the toys, the one that chased Kitty all day and played hide and seek with her at night. He convinced Roo that life was more exciting if you bark at the mail lady or have a wrestling match on mom and dads bed. I swear he would injure himself just so he could get more attention from Ben and I, he loved being babied. If Bear wasn't getting enough attention he would come up to us and look us right in the eyes and growl till he got a pat on the head and if you were sitting on the ground you could bet you would have a Bear in your lap! He made us laugh every day. Bear had a soul I have yet to meet in another dog, at times I swear he thought he should have been a human and was put in the wrong body.
Today is Bears birthday and he would have been 7.
Happy Birthday to my Angel, Bear.
Bath time with Kitty happened often because of Bears allergies
Killing time at the clinic with friends and snuggles
When Bear first came back from the hospital I left my camera out for the last two weeks we had and tried to capture every little moment.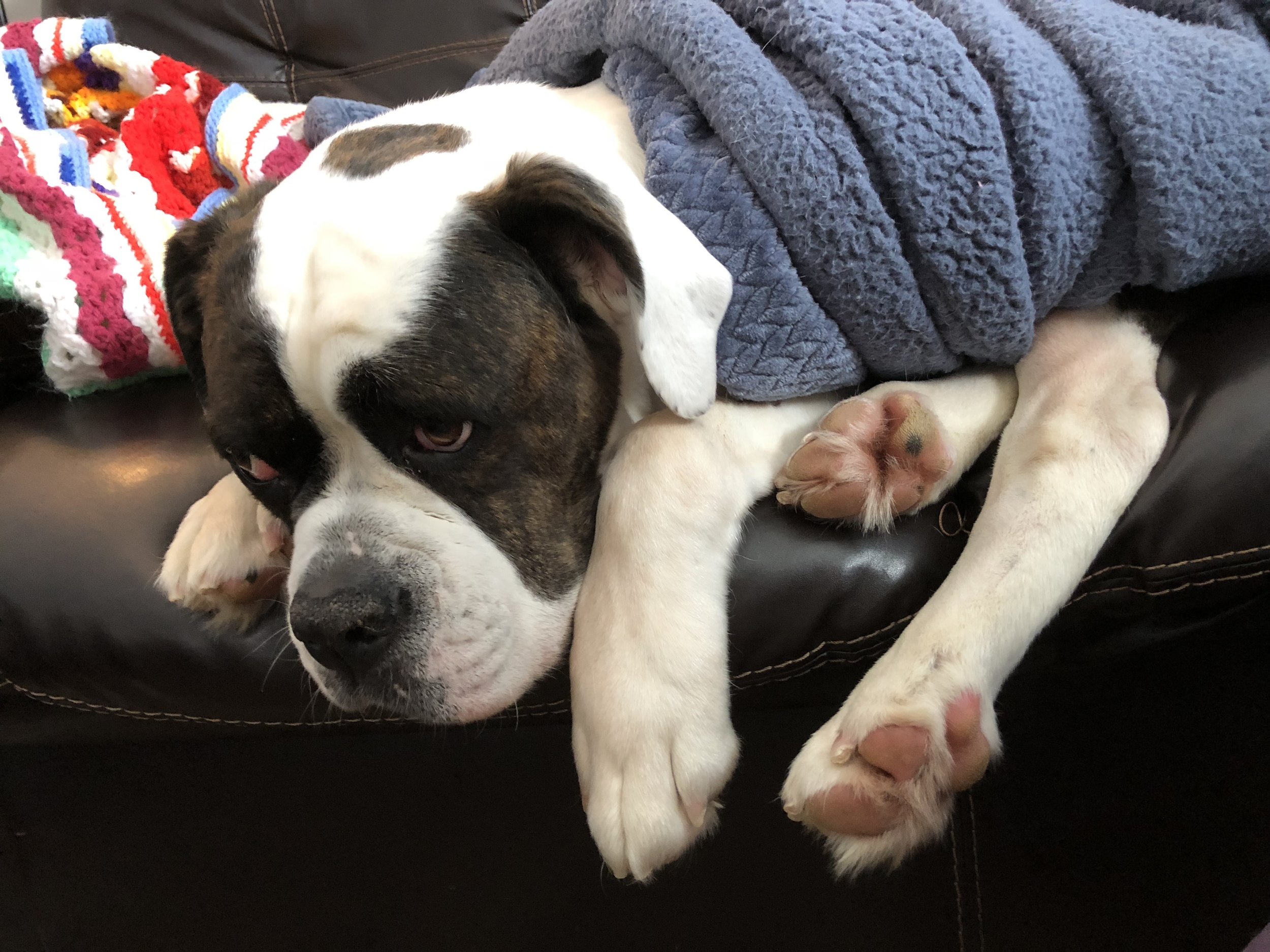 These are just a few of the 1 million photo's of Bear!